Tides of Change - A Visual Essay - Exploring Ocean Plastic Issues Through Colour and Mood.
Tactile Trends X All Seasons Trends
Over the last three weeks I have been researching ocean plastics and asking how the creative industries are responding to the problem of ocean plastic pollution.
As a creative person I want to understand what I can do, not only as a consumer but as a designer.
It is clear as designers we all have a part to play, especially where materials and design is concerned but before acting I believe its important to understand the full story; the ocean habitat, the current state of it and what areas we can focus on to bring smart solutions.
For this weeks article I have invited Christiane Strobel of 'All Seasons Trends' , a fashion designer and trend consultant who is passionate about sustainability, to curate a visual essay for Tactile Trends.
Below you can read 5 chapters relating to the ocean plastic situation each with a colour and mood board from Christiane, following the themes outlined in my introduction to ocean plastic.
I hope you enjoy this visual journey as much as we did and if you are a designer reading this I hope it inspires you to create something.
Dont miss the bio on Christiane at the end of this article!
1 // A Benchmark of Beauty
Lilac reflections of a vast expanse, an indigo ocean lulling gently or crashing with mighty force...this is a place to explore, to reflect and connect. We feel alive watching the sun set over the ocean, or spying crustaceans in rock pools, collecting shells and swimming in the salty fresh air of the oceans new morning. We feel blessed to glimpse the tail of a whale or the synchronized dance of dolphins at dawn.
From secret coves and coral reefs to deserted beaches, we humans are mesmerized by the untouchable beauty and adventure the ocean brings.
This mood and colour palette takes inspiration from the depths of the ocean with inky blues, green mid tones and tonal lavender. Textures come from the effervescence of water inspiring prints with oxygen bubbles and fizz. Jelly fish represent the simplicity of nature with their basic nervous systems and structures. Think about trailing strands of fibre and making the most simple shape you can out of as little as possible. Floral elements are darkly romantic from living their lives in the deepest sea beds.
Mood Images: Joel-Filipe, Emilio-Martin, Jeremy-Bishop // Colour Image: Shifaaz-Shamoon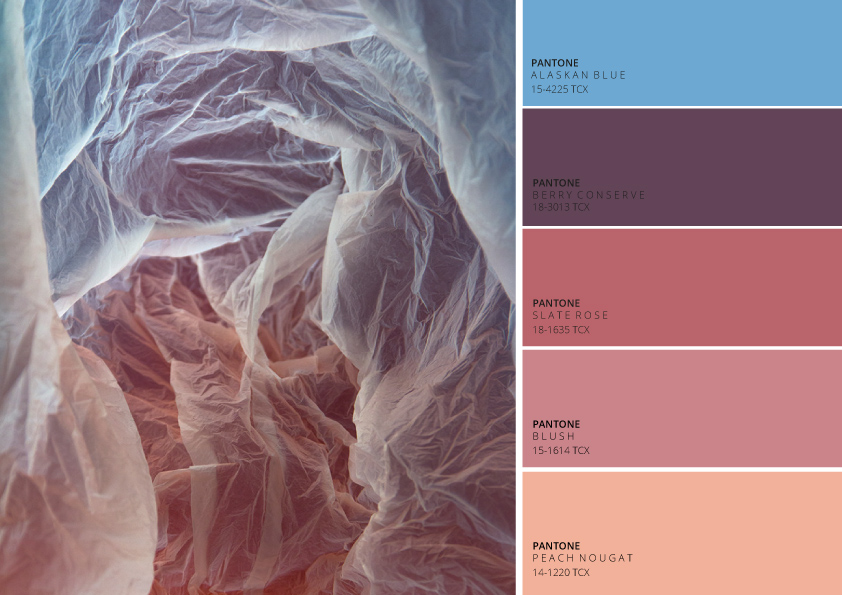 2 // Awareness
A pastel coloured confetti made of micro plastic hovers below the surface of our ocean like an invisible smog. Feelings of alarm and panic set in at the insurmountable catastrophe of Ingested, washed up and degenerated plastic that is infiltrating our animals and environment. Did we really do this? We turn to education, creativity and innovation as ways to move forward.
Artists that are working with collected ocean plastic reveal a distinctive palette of saturated brights that draws attention. Textures are fragmented and sharp mirroring plastic pieces and the t-shirt is a vehicle for slogan artwork.
This is not about making a trend out of tragedy but sending a message through art, design and imagery. As artists, designers and businesses we want to inspire peoples curiosity and make them stop and think about their choices.
Mood Images: Markus- Spiske, Sonja-Punz, Thirza Schaap // Colour Image: Vilde Rolfsen
3 // Retrieve & Recycle
Discarded nylon nets wander the ocean like lost souls with nowhere to go, these old fishing nets become ghosts and polluters of our ocean trapping marine life but Interception, social enterprise and retrieval shine a light of hope as we see organisations like Net Works for example, who empower poor communities to earn an income by retrieving these nets, which are then shredded and re-made into carpets via yarn company Aquafil.
In this chapter fishing nets are akin to currency in aquatic and submerged shades with sandy notes and dark earth adding contrast. Textures are caged and textiles take inspiration from knotting and macrame. 3D printing comes into play here as recycled plastics inspire geometric patterning.
Mood Images: Jonas-Jacobs, Ruben- Gutierrez, Anthropologie // Colour Image: Jane Little Jeffers
4 // Biofabrication
Organic cultivation and innovation..rich forest fruits that can work magic in more ways than one demand attention. Harnessing the power of biology we look to science and nature for a harmonious and nourishing plastic alternative. Mycelium eco systems, fungus, mushrooms, pineapples, oranges and apples become our material capable building blocks on land as we use science to help us grow materials from vegetal matter.
Colours are borrowed from natures palette with lichen, algae and bark set back against berries and lime. Mushrooms provide textural inspiration in the form of frilled, pleated and rippled textures.
Mood Images: Manuel-Barroso-Parejo, Myco Works // Colour Image: Kayla Gibson
5 // Mindful Consumption
Fresh hued nostalgia of pre-plastic times inspires us to try 'new old ways'. Our Grandparents are our role models once again and we look to their 'waste not want not mentalities'. Repair, darn, save, re-use. These are the values we want to hold dear aswel but modern society puts us in 'convenience hand cuffs', so we start to demand and speak up to governments and companies for change. We stop buying the things that don't serve us.
Fresh, optimistic pastels and pared back neutrals form the colour palette in this final chapter whilst we look to minimalism for design aesthetics.
Mood Images: Tanya Joy Felicity Jane , Freestocks, Que Onda Vos // Colour Image: Shawnee-Wilborn
Meet Christiane Strobel
As I mentioned in my introduction above Christiane has curated the mood and colour for the visual essay you see on the blog today.
Christiane is a fashion designer and trend consultant with a focus on sustainable design for 'All Seasons', which is also the name of her consultancy.
Christiane has authored two trend/design books in collaboration with Mode Information which focus on the product areas of Lingerie, Leisure and Active wear.
You can see more of Christiane's beautiful work here
Thank you Christiane!
Do you feel like you would like to know more about the topics covered above? Very soon I am publishing my months research on ocean plastics as a reading list. This includes films, TED talks, blog links and more!
Please sign up to the newsletter here for the complete ocean plastics issue via email which I will send out around the end of the month. Plus you will also find details of next months Issue.